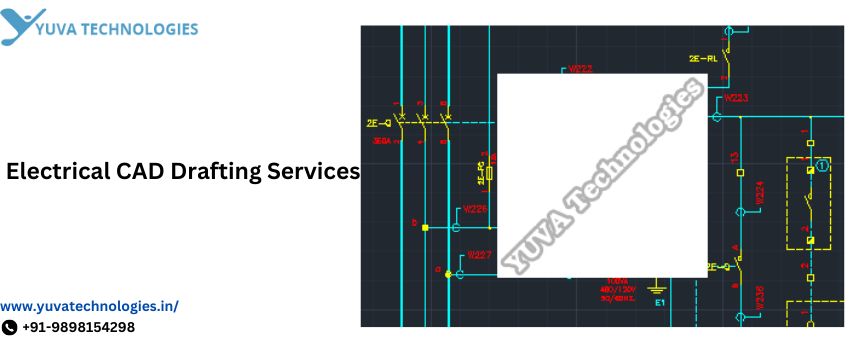 It's a precondition for engineers, contractors, and value technicians to have accurate electrical CAD drafting following the real configuration of electrical elements along with construction and mechanical documents.
Electrical CAD (computer-aided design) drafting is the procedure of creating comprehensive technical drawings and diagrams for electrical systems using specialised software. It includes showing the electrical components, wiring, circuits, and other connected elements in a digital setup.
Here, you can find the key steps engaged in the electrical CAD drafting:
Software Selection:
Select electrical CAD software that meets your requirements. The popular choices comprise EPLAN Electric P8, AutoCAD Electrical, SolidWorks Electrical, and DraftSight.
Create a new drawing.
Begin a new project and create a blank drawing file. Set suitable units and drawing standards according to your needs.
Drawing Setup
Initiate the drawing page design, which includes the sheet size, title block, and scale. Configure the drawing settings, which include colours, line types, and layers specific to electrical drawings.
Place electrical elements
Make use of the software's library of electrical symbols to position components such as switches, circuit breakers, outlets, transformers, and motors. Signs and symbols stand for physical objects and their electrical features.
Draw electrical circuits.
Join the components by drawing lines and wires to show the electrical connections. Use suitable line types and colours to distinguish between special kinds of conductors, which include control lines, power lines, or grounding.
Add labels and annotations.
comprise text annotations, labels, and tags to share detailed information about wires, components, and other elements. Labels assist with identification, knowledge, understanding, and troubleshooting of the electrical system.
Create diagrams and schematics:
Create single-line diagrams, schematic diagrams, or even block diagrams to show the complete electrical system's arrangement and connections. The diagrams give the best level of overview of the system and are important for design and documentation ideas.
Dimensioning and BOM
Bring dimensions to specify clearances, distances, and more calculations. Form out a Bill of Materials (BOM) to record all the electrical components utilised in the design along with their features and quantities.
Cross-Referencing
Make the cross-references in the middle of the drawings and components to maintain consistency and accuracy throughout the project. It makes sure that changes that can be made in one part of the design are automatically shown in the linked areas.
Plotting and printing
At last, make the drawing for digital and print distribution. Set the suitable plot scale, page setups, and plot styles to produce high-quality prints or electronic files, which include PDFs.
It's essential to note that the specific steps and terminology may differ depending on the CAD software you are using. It's suggested that you refer to the software's certification or take specialised courses to boost your skills in electrical CAD drafting.
Several companies that have focused on improving their efficiency have aimed towards combining electrical CAD programmes with their automatic design team or department. Electrical CAD programmes will continue to learn as they are utilised for more and more projects. Contact the Electrical CAD Drafting Services Provider for more information.